Introduction
Between work and everything else life throws at you every day, it's almost impossible to avoid stress. But here's the good news: You don't have to hold on to all the negative energy. There's no better way to unwind after a long, hard day than with a luxurious soak in a beautiful bathtub. Relax in warm water and all your worries seem to melt away.
In this article, we will share some content about tips for modern freestanding bathtubs designs, including:
Modern Bathtubs style trends for 2020
5 factors you should consider when design
Tips for modern freestanding bathtubs designs
Also, we hope that this article can help you have a comprehensive understanding of tips for modern freestanding bathtubs designs.
Modern Bathtubs style trends for 2020
While there are many types of tubs on the market, and they all serve their own purposes, we note that in 2020, the days of large corner jet tubs are long gone (we're more likely to tear them down than replace them). The type of tub matters more than anything else. The stylish and modern bathroom comes with a range of freestanding tubs, deck-style built-in tubs, or stylish apron-style tubs.
Freestanding bathtubs are ideal for large bathrooms. That is because, in the big bathroom, it is not beautiful to install the bathtub directly near the wall. It would have looked prettier and more interesting if it had been placed elsewhere.
Other styles of free-standing bathtubs include simple bowl-style bathtubs or romantic soaking tubs with elaborate feminine shapes. We are also seeing more and more square bathtubs with square corners for a more masculine or transitional effect.
Before designing modern freestanding bathtub, let's learn more about the trend of modern bathtub style for 2020.
Freestanding bathtubs are hot right now. There are many reasons why these tubs are so popular, the most important of which is the amazing versatility of these tubs and the ability to transform any space! Such dramatic works in any bathroom can also help increase the value of your home.
Freestanding bathtubs come in a variety of styles, sizes, and shapes. A dip in a claw-foot bathtub with candles nearby can have a nostalgic feel, but a more modern style offers its own sense of luxury and relaxation. The shape and size of the bathtub should be adapted to the size of the room itself.
The perfect bathtub for a smaller space is the clawfoot bathtub. Because it is above the floor and the tiles below are still visible, the room can still feel open. However, a bathtub with feet can make a large bathroom look spacey. For these Spaces, free-standing bathtubs on the floor (like the tub above) may be a better choice.
In the bathroom that contains the independent bath crock of two kinds of styles, ceramic tile has the opportunity to become the star of the program. The uninterrupted tile span creates an extra dimension and drama that cannot be replicated in any other way. This makes flooring selection an especially important decision!
Free-standing tubs are usually installed without a surround. This frees up more bathroom space and allows the room to be more expressive, such as the dramatic stone in the photo above.
What an independent bathtub offers is not just to save space. It also adds a pleasing architectural appearance through design. The bathtub can be seen as a separate element in the room without being surrounded. The variety of designs for this bathtub may actually be infinite! Placing a unique freestanding bathtub in the bathroom is almost like adding a piece of sculpture, although it's also very practical!
5 factors you should consider when design
The bathtub must fit in your bathroom, but also be aware that it must arrive in your bathroom first. Extra-large or heavy-duty bathtubs require additional installation considerations when compared to standard building-grade 30"x60" fiberglass bathtub inserts. In addition, some bathtubs require trim or framing, and all bathtubs must be installed near pipe connections. When it comes to these less glamorous but crucial considerations and bathtub ideas, working with a professional bathroom remover will benefit you.
Free-standing tubs are becoming more and more popular. When designing modern freestanding bathtubs, Once considered a luxury reserved for the rich and famous, these tubs are now easier to use than ever before, with models available to suit every taste and budget. Modern and luxurious freestanding tubs add impact to any bathroom decor and are designed to be enjoyed at your leisure. They are also a great source of relaxation. If you are considering starting this new bathroom trend, there are many factors to consider when deciding which freestanding bathtub to buy.
1) Bathroom space available
Before installing an independent type bath crock, what should consider above all is the amount of available space in the bathroom. Are you reorganizing an existing space? Or would you like to replace an old bathtub?
Freestanding bathtubs are not necessarily as big as before; There are various sizes on the market now. For example, if your workspace is limited, you can purchase a smaller model that can be up to 60 inches wide and is perfect for the space left over by an old deck or niche bathtub. Make sure the interior space of the free-standing tub is large enough to suit your needs -- taking into account your height, weight, and the intended use of the tub.
2) Bathtub style
Free-standing bathtubs have been available in a variety of styles over the years. Choose the style that best suits the look and feel of your bathroom. Freestanding bathtubs can enhance the appearance of any bathroom, even in a tight space.
3) The type of separate bathtub
You can choose two models for the stand-alone tub: one-piece model or two-piece model. The one-piece model, as the name implies, has only one piece. The two-piece model consists of a skirt and a bathtub that is inserted into each other to create the bathtub. The dress is the more luxurious of the two and offers a variety of styling options. Two-piece tubs are usually easier to install and can usually accommodate faucets mounted on the edge of the tub. Also, if you want to include a massage system in your bathtub, the two-piece model will be a better choice, as very few one-piece models can include this feature.
4) Manufacturing materials
Manufacturing materials affect the style and ease of installation and functionality of the bathtub.
Acrylic: A lightweight, scratch-resistant material that is easy to maintain and repair, and provides a modern look.
Acrylx TM: A unique applied acrylic finish that has a brighter sheen than fiberglass and will continue to look like it left the factory due to its UV resistance properties. This finish is unique to Bass Group in the United States.
Fiberglass: This fiberglass reinforced resin is flexible and lightweight, making it easy to clean and maintain.
Rugged surface: The mixture of resin and pure acrylic creates a high-quality material (often with a matte or smooth finish) that provides the appearance and durability of the stone without the weight.
Cast iron: A heavy, strong, durable material that is difficult to scratch and easy to clean. However, once damaged, the material is difficult to repair. Cast iron bathtubs create an elegant, retro look.
Copper and stainless steel: These chic and easy-to-maintain materials are both traditional and modern. Their thermal conductivity allows water to remain at the same temperature for longer.
Stone: Bold, modern, and natural appearance, suitable for heavy-duty bathtubs that can be used for a long time (considering the carrying capacity of the floor).
5) The shape of the model
Do you prefer an oval bathtub or a rectangular bathtub? The shape of the bathtub needs to match the style of the bathroom to create a harmonious atmosphere. Bathtub shapes can be transitional, traditional, or modern; The bathtubs below will give you a good idea of what each style has to offer.
Tips for modern freestanding bathtub designs
Modern freestanding bathtub designs are modern tubs that would be placed inside the modern bathroom with modern amenities. Bathroom designs can incorporate modern freestanding bathtubs with modern sinks and modern showers, too. Modern freestanding bathtubs give a current vibe to any modern bathroom design (or modern themed bedroom design) they are included in. Here are some tips on how you can make your modern freestanding bathtub designs stand out:
1.  Color
The color of your modern freestanding tub should blend well with your interior colors. This is really important if you want to achieve an overall look that looks like it's part of one completed whole instead of three separate pieces that don't together at all.
2.  modern freestanding bathtubs with jets
If you want to truly relax in your modern bathroom then opt for the modern freestanding bathtub designs with a built-in jet massage system. This will help soothe your muscles after a long day at work. Most modern acrylic baths have one or more jets on each side of the tub. The number of jets varies depending on the model you choose, but expect to find at least two or four high-powered ones that provide quite a strong stream of water. You can also find modern bathtub designs with air jets which are perfect for a gentle massage.
3. Modern freestanding bathtubs with digital controls
One of the latest trends in modern bathroom design is the inclusion of digital controls on various modern appliances and furniture. If you want to include this feature in your modern bathroom then look for modern acrylic bathtubs that come with digital temperature and jet control panels. This will allow you to adjust the settings to your liking without having to get up from your comfortable bathtub seat.
4. Modern freestanding bathtubs with built-in seating
If you are looking for a truly luxurious modern freestanding bathtub design then choose one that has built-in seating. This will add an extra touch of modernity and elegance to your bathroom. In addition, the seating will make it more comfortable for you to stay in the bathtub for a longer period of time.
5. Modern freestanding bathtubs with chromotherapy
Chromotherapy is one of the latest trends in modern bathroom design. It uses different colors to create certain moods or effects. If you want to include chromotherapy in your modern bathroom then look for modern freestanding bathtub designs that come with built-in LED lights. These will allow you to change the color of the light depending on your mood or needs. For example, blue light is often used to create a calm and relaxing atmosphere, while yellow light can be used to stimulate productivity.
6. Modern freestanding bathtubs with built-in steam shower
If you want to feel like you are in a modern spa then look for modern freestanding acrylic bathtubs that come with a built-in steam shower. Many modern tub designs have such features, so all you need to do is find one that fits your taste and budget. Modern freestanding bathtubs with steams showers come in various sizes and styles, so take your time to choose the modern design that meets your needs.
7. Go big -- even if your space is small
Don't let bathroom size limitations prevent you from choosing the largest tub that can fill up space. Measure 3 times and take a photo with you when you shop - don't give up - the bigger the better, creating an eye-catching look. Remember to leave plenty of room for piping, and consider using a wall-mounted faucet instead of a vertical fill to restore centimeters.
8. Guide to your favorite spa Settings
Create a refuge with all the trappings of a resort spa -- plenty of space, storage for stacks of plump towels, and floor-to-ceiling luxury with mirrors, tiles, or wavy curtains. Indulge in a range of special care products for guests to launch or indulge in a "Spa Day".
9. Try before you buy
Yes, into the bathtub of the showroom! Always a great photo manipulation and popular stunt in TV refurbishment show, but before buying and installing it, you must settle in the tub and try it out for comfort and size. People come in different shapes and sizes, and an uncomfortable bathtub is an ultimate tragedy.
10. Enjoy the view
Where possible, place your freestanding bathtub for a soak to enjoy uninterrupted views. If you're lucky enough to have a view from the bathroom and privacy allows, include bay Windows specifically or consider installing floor-to-ceiling glazing for full inclusion.
11. Make me happy
In addition to color therapy, free-standing bathtubs can contrast or complement your bathroom color scheme. The possibilities of cast iron bathtubs are endless, or for modern Spaces, black bath tubs certainly have a wow factor.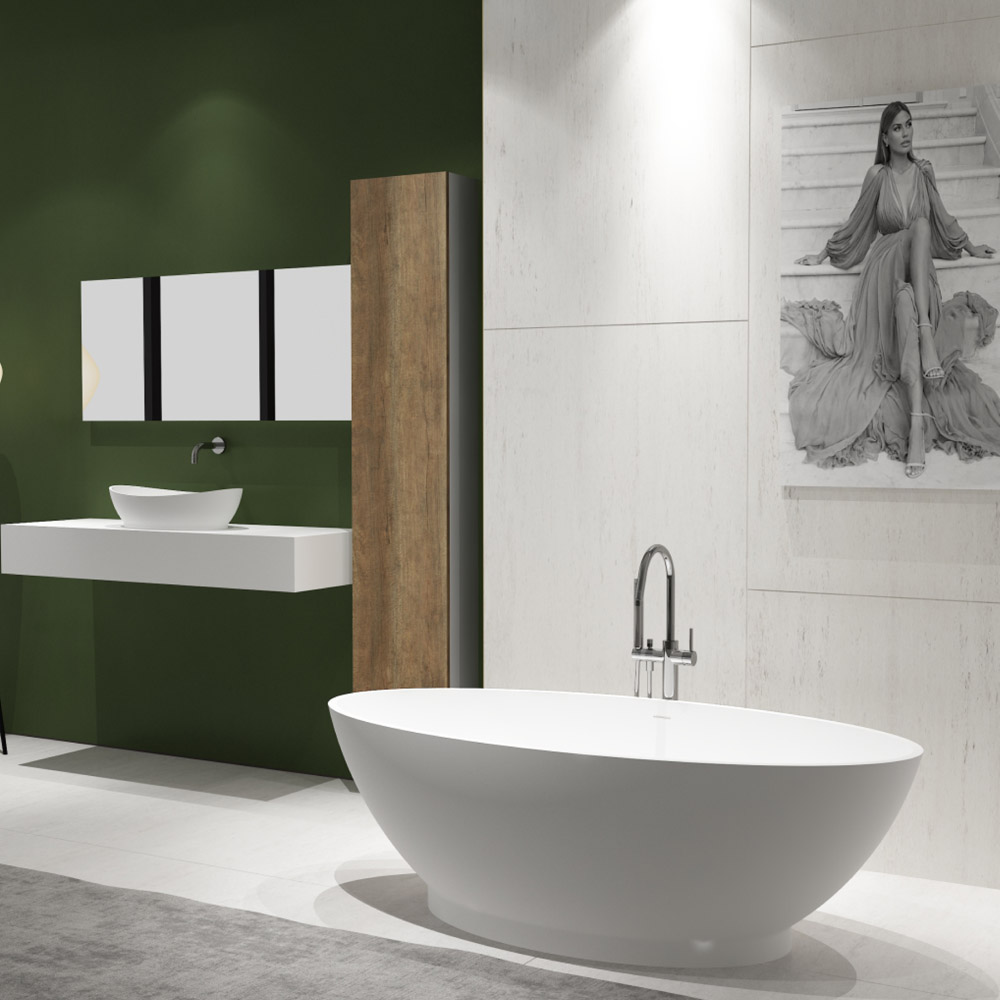 Welcome to know more detailed information about products in Cpingao:
Click and know more about our star products:
Freestanding bathtub 8828:
https://www.amazon.com/dp/B099W3QPV9?ref=myi_title_dp
https://www.amazon.com/dp/B099W87SR6?ref=myi_title_dp
Bathroom vessel sink:
https://www.amazon.com/dp/B099Z6H5DM?ref=myi_title_dp
https://www.amazon.com/dp/B099ZFLZFK?ref=myi_title_dp
Bathroom wall hung sink:
https://www.amazon.com/dp/B09CPF8K9V?ref=myi_title_dp
https://www.amazon.com/dp/B09CPFBRYF?ref=myi_title_dp
Conclusion
In the modern and modern family, the bathroom has become an important part and received more attention than before. The bathroom is a serene, private, and relaxing space, usually minimalist. The furniture is kept simple and the tones include fresh and relaxed colors. For bathtubs, free-standing models are usually preferred.